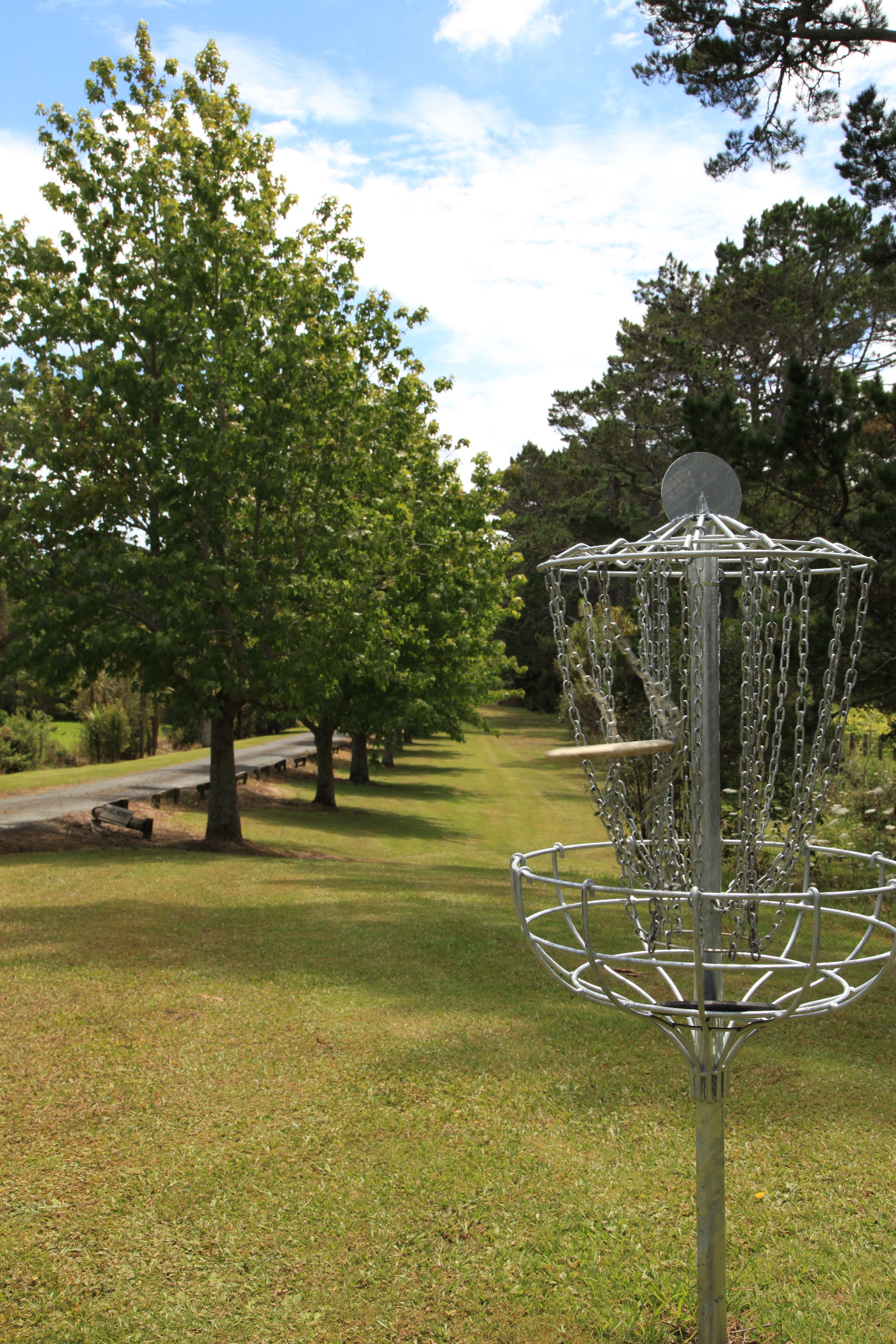 Upon arriving at Bella Rakha and winding your way along our long driveway, you will come across metal baskets dotted among the trees and fields. These are disc golf targets.
When Simon and Yvette first bought the property in 2007, one of Simon's main goals was to set up an 18 hole Disc Golf Course on the grounds. When groups are here using the property, they are able to experience this sport free of charge. You can pick a disc and go for a wander around the grounds, enjoying your own route around the baskets. If you want to include this as an activity while you are booked at Bella Rakha, we can mark out a beginners course, with access to maps and discs – just let us know in advance. The main course is set up for experienced players with good technical abilities and not very friendly to beginners.
What is Disc Golf?
The concept of the game is easier to understand when the term 'Frisbee® golf' is used, but since  Frisbee is a registered trademark, we call the game disc golf instead.
The game is similar to traditional ball golf.  Players use special frisbees (golf discs) instead of balls and clubs, and throw them at an above-ground target instead of a hole in the ground.  There are different types of golf discs used for different purposes, much like ball golfers use different clubs.
The object of the game is to throw a golf disc into the target for 'par' or better, i.e., in the fewest number of throws.  The target is typically a steel basket over which chains hang, known as a Pole Hole®.  The player begins by 'driving' from a designated tee area and continues toward the target, throwing each consecutive shot from the spot where the previous throw has landed.  Finally, a successful 'putt' sends the disc into the target, and the hole is completed.  The combination of challenges to players, including distance, accuracy, wind, trees, shrubbery, water and terrain changes, offer plenty of action and excitement during the course of a game.
When did it Start?
The first known instance of anyone playing golf with a flying disc occurred in Vancouver BC in 1926. A group of school age kids played a game with tin lids, which they dubbed Tin Lid Golf. They played on a fairly regular basis on a disc golf course they laid out on their school grounds.
As they got older and into the more standard school sports, the Tin Lid Golf play faded out of the picture, only to be remembered many years later by one of the participants when they heard of the organized disc golf play of today.
Other similar accounts, both pre and post the advent of plastic flying discs, occurred in the 1930's, ˜40's ˜50's, and ˜60's, each ending in a similar way. One 1960 instance of disc golf was even a commercial attempt to market a packaged game of Sky Golf by the Copar Plastics company in Chicago. However, the Frisbee culture was just in its infancy at that time and the Copar game just didn't catch on.
The most interesting discovery of disc golf that fizzed out came right at the point when the modern day Frisbee culture started to mushroom into its current state of being. It is somewhat of a mystery why it didn't catch on at that time, especially when you learn of the people involved in that account.
In 1965 George Sappenfeld was a recreation counsellor during summer break from college. While playing golf one afternoon, he realized that the kids on his playground could play the golf game with Frisbee discs. He remembered his idea when in 1968 he finished college and became the Parks and Recreation supervisor for the Thousand Oaks, CA Parks and Recreation Department.
George contacted the Wham-O MFG Company about his idea and asked if they could help out with his plan to hold a Frisbee golf contest for his recreation program. They sent Frisbees and Hula Hoops to use as targets. The next year, he talked Ed Headrick of Wham-O into including a Frisbee golf event in the big All Comers Frisbee meet that Ed Headrick and Wham-O was planning to hold at Pasadena's Rose Bowl fields. But that was the last that Frisbee golf was heard of from Wham-O for seven years. Even Goldy Norton's Official Frisbee Handbook of 1972, in which is listed all the activities and events that could be played with a Frisbee, there is not one iota of information or acknowledgment about disc or Frisbee golf throughout the entire book! It was if the concept didn't even exist!
Apparently disc golf didn't fit into the promotional plans that Wham-O had for its Frisbee brand flying discs at that time.
But the game of disc golf did indeed exist. A small group of people from Rochester, NY who had never heard of the IFA or Goldy Norton's Handbook of Frisbee had been playing disc golf as a competitive sport on a regular basis; tournaments, league play and all. They had started in August of 1970, and by 1972 had promoted the Second Annual City of Rochester Disc Golf Championship.
Currently there is over 13,000 courses worldwide. The sport has tripled it's players since the pandemic, with new courses going in all the time – check out the statistics on https://udisc.com/disc-golf-growth-report
 …. and in NZ
Disc Golf has been  played competitively in New Zealand for over 40 years. NZ'ers travel all over the world competing and it is not unusual to see them in the top 10.  Over 45 courses exist throughout NZ, with more courses being installed each month. The numbers of disc golf players in NZ has tripled since 2020,thanks in part to the pandemic.  We have high demand for new courses and discs, with tournaments selling out quickly. For more information about disc golf in NZ see http://www.newzealanddiscgolf.org.nz.
Simon's passion for the sport has turned from a hobby into a business. His company RPM Discs manufactures discs and baskets for the NZ and international market. Find out more on http://rpmdiscs.com
Corporate Disc Golf Tournament – The Black Caps vs HRV in October 09 (check out some coverage of the event on HRV website link http://www.hrv.co.nz/news-blog/hrv_cup.aspx)