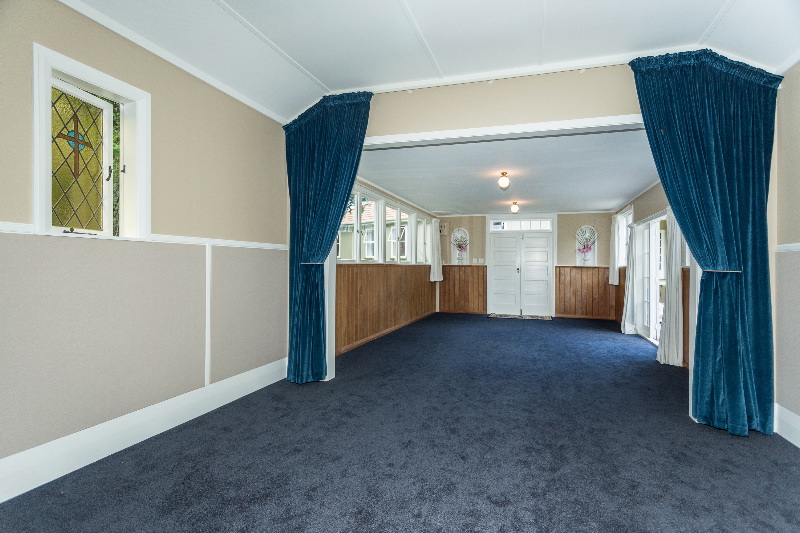 Bella Rakha is set in 32 acres of beautiful grounds and native bush. The property is secluded and private, a true escape from the bustle of the city, but only 25mins from Central Auckland.
We provide a quiet setting that is ideal for silent meditation and spiritual retreats, with lots of open and private spaces to walk around and be surrounded by the beauty of nature.
We are set up to host up to 40 guests overnight.
Facilities
Our main hall has a wonderfully private northern outlook onto a sunny grassed area and lovely established trees beyond. This is a great place for groups to run their events in. The room has polished floors, large rugs, air-conditioning and a fireplace.
The hall accommodation has two bedroom wings – each side has 7 rooms with a shared bathroom (4 toilets/3 showers) – a total of 14 rooms with 12 twin share single beds and two single rooms – 26 beds in total.
Our chapel works very well for smaller groups wanting a more intimate space for meditation, yoga or even a break out meeting space.  The lovely round window looking out to the horizon and stained glass windows create a special space for contemplation. This room can be divided into two, with full height curtains. It is carpeted with a raised timber platform at the end.
The lodge building offers additional accommodation, and works very well for groups who wish to house their facilitators separate to the guests. There is a self contained wing, with kitchenette and lounge area. There are 5 bedrooms downstairs, and 7 upstairs – total of 14 beds.
Our dining room and kitchen offers the flexibility for groups to self cater, with plenty of bench space for large group catering. We can seat 40 people in the dining room, or when the weather is fine, you can enjoy dining outdoors in our walled outdoor courtyard. Our pizza oven can be used for cooking (by prior arrangement, during daylight saving months), with a small additional charge. We are able to get this started for you in advance (takes about one and a half hours to heat), and it is a great way to cook and eat together in a very social way – food tastes great and cooks very quickly.
Pricing
We are flexible to allow for group sizes, the length of stay and individual group requests. Our minimum Retreat Group prices are based on the group being self sufficient while using the facilities and self catering, and are charged on a per head basis. The guests are to provide their own bed sheets and towels, and clean the facilities on departure.
$65 per person overnight, which includes a day/night (incl gst)
$32.50 per person for additional day or the day rate for visitors (incl gst)
minimum costs apply to bookings, these start from $650 per night (incl gst), and $1,300 per weekend (incl gst)
If a group wishes to upscale the service provided, additional costs can be added for the following:
hall setup
linen for beds – for guests to make up, or fully made
towels
tea and coffee supplies
projector use
catering
cleaning on departure (during Orange/Red Covid settings, cleaning costs are added to venue costs – no self-cleaning options are provided)
We provide…
beds have mattress protectors, pillow and case, duvet and 2 blankets
bathrooms have soap, toilet paper and paper towels
kitchen has all the basic cooking requirements – serving dishes, dinner sets, cutlery, cups and glasses, we provide the tea towels – not cooking oil etc
cleaning equipment and products, cloths etc
Groups need to…
understand and be mindful our guidelines for guests sharing the property with the residents
If the group has elected to be self sufficient, they will need to set up the main hall and dining hall to suit their specific requirements
bring own linen (2 sheets, pillowcase) and towels and toiletries
bring their own food, tea & coffee, milk etc
leave the facilities tidy, with beds remade, chairs stacked etc
be mindful of recycling as much of their rubbish as possible – sorting rubbish into appropriate bins in dining block – paper, recyclable plastic, tins, glass and food waste into kitchen bucket then into the compost bin outside kitchen
clean the facilities, and leave as found (not during Covid Orange/Red settings)
Day only bookings
While we cater predominantly to overnight bookings, we can be booked for day workshops, especially during the week. Our day hire rate starts at $650 incl gst.